Your Source of Relief From Stiff, Swollen & Achy Hands
Introducing the #1 Rated Premium Arthritis Relief Gloves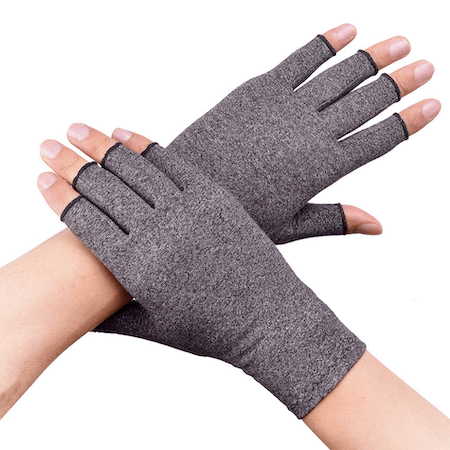 "The risk of hand arthritis increases with age and can cause joint pain and stiffness that affects a person's ability to effectively grasp and hold objects..limiting simple everyday tasks substantially"
- Harvard Medical School
Arthrigloves™ for Arthritis Relief
40% OFF - New Year Sale!
Please Select "Womens" or "Mens" Below:
Get Womens Arthrigloves Now!
CLICK HERE FOR WOMENS ARTHRIGLOVES
Get Your Arthrigloves Now!
CLICK HERE TO CLAIM YOUR DISCOUNT
1,510 customer reviews
4.4 out of  5 stars
"The risk of hand arthritis increases with age and can cause joint pain and stiffness that affects a person's ability to effectively grasp and hold objects..limiting simple everyday tasks substantially"
- Harvard Medical School
Get Caresole® Arthrigloves™ Today!
Perfect For Both Men & Women
Arthrigloves™ work by combining the natural health benefits of targeted compression technology and proper stabilization. They are perfect for those who would like to get back to a pain-free life while protecting and supporting their hands throughout the day.

Breathable, copper compression technology  keeps your hands warm, compressed & lubricated for maximum relief

Perfect for those who need pain-relief in their hands throughout the day

Effective against arthritis, tendonitis, carpal tunnel and any nagging aches & pains

Contoured fit allows for maximum comfort and prevents slippage.

State of the art stabilizing technology allows full range of motion without twisting or spraining.

Open finger design allows you to use your hands normally without limitations

Breathable, stretchy, light material that can be machine washed.

Can be worn at work, at home and even while sleeping for effective long-lasting relief

Safe, effective and natural

Perfect for both men & women
Order Now
Frequently Asked Questions (FAQ)
What sizes do Arthrigloves come in?


Arthrigloves are available in both women's and men's sizes. Women's gloves measure across the knuckles, from the index finger to the pinky finger 3.5 inches and smaller and Men's gloves measure 4 inches and above.
 How do I measure my hand size?


It's easy! Simply find the knuckle under your index finger and then measure across to the knuckle under your pinky finger. Women's size = 3.5 inches and lower , Men's size = 4 inches and above.
 Can I wear my Arthrigloves all day?


Absolutely, you can wear your Arthrigloves all day long. They are made from compressive, comfortable material that will aid you in any activity, whether you're typing on your computer, cooking, exercising, driving etc. You can use them for any activity or task that involves your hands!
 I don't want something heavy - will Arthrigloves make my hands tired?


Arthrigloves are made of low profile, lightweight, compressive material that are so comfortable, you won't even notice your wearing them!
 What benefits can I expect from wearing them?


Arthrigloves have many benefits! Users report compression and warmth, lubrication in the joints, injury prevention, increased flexibility and decreased sensitivity. This is most helpful to those who may experience stiff, tired or achy joints in their hands. They are also made for those who spend most of their day using their hands for writing, typing, cooking, exercising or whatever activity requires use of your hands.
 How long do they take to work?


Everybody is different and no two people are the same. Our bodies take time to adjust and adapt to change. With that being said, patience and listening to your body is key. However, we have had customers report that they have felt significant results in as little as hours and others in weeks - again, everyones body is different and how long they often they use their Arthrigloves each day varies. We strongly recommend that whenever trying or changing anything about your lifestyle, that this is always done in consultation with your doctor.
 When will I receive my order?


We proudly ship all orders out of our Idaho based warehouse here in the USA via UPS & USPS. Due to slight delays in shipping due to the recent pandemic, it can take 7-10 days for shipping within the US and around 2 weeks for international orders.
 What is your return policy?


Your satisfaction is our mail goal. If for any reason you would like to return your order - just contact us at support@caresole.com within 30 days of receiving your order, and we'll issue a refund, less s&h.
Here's Why Customers Love Arthrigloves!
"I ABSOLUTELY Love Them"
These gloves provide me with the perfect compression in my fingers so I finally have some pain relief when I wear them. I was so excited with this find, I make sure to share this big secret with all my family, friends, and acquaintances that might benefit from it. My cousin doesn't stop thanking me, she says these gloves changed her whole life. I totally believe her.
"Works Great For My Fibromyalgia"
I'm extremely happy that I bought these! I really cannot stress enough how much these helped me. When the pain is severe in my hands, I literally can't move my fingers. AT ALL. Usually after wearing the gloves for the first part of the day I can clench my right hand, and partially the left and the pain is WAY WAY less than if I had not had them on.
"It Actually Relieves Pain & Helps The Weakness"
I have bi lateral carpal tunnel & have had 2 surgeries over the past 35 years or so. Now getting older it's coming back with arthritis as well!! My hands & wrist are weak & very painful at times. These gloves are incredible!! They're lightweight, comfortable & provide just the right amount of compression!! Love love love them!! It gives my hands the support needed to do everyday chores.
"Fits Well, Results Have Been Incredible"
I was skeptical of compression gloves because nothing seemed to work to ease the pain of my Psoriatic Arthritis. This was the first pair I bought and I could NOT believe how well they DO work! I wear them when my pain becomes distracting and offer me vital relief. Thank you.